The Where's William? Campaign is the initiative of William's family who are working with the support of Bravehearts Inc. in raising awareness of William so we can find him and bring him home.
When William first disappeared, out of concern for our little boy a number of individuals and groups that don't know us or William wanted to help by raising awareness in creating unofficial Facebook pages and in other ways.
Recently, some of these groups from around Australia and the world started inviting people to participate in Walk 4 William events on the 12 September 2015, the 12-month anniversary of William's disappearance.
While we, William's family and Bravehearts are grateful to organisers for your support, now that the official Where's William? Campaign has been launched, we are urging supporters and participants to officially register your events to have our endorsement of your event and to show your support for William's family and their Where's William? Campaign.
Only officially registered events will be given vital information on regulatory requirements for their event and most importantly, only registered events will be covered by Public Liability Insurance which is an absolute must for any event.
Fundraising is not compulsory. However, Walk 4 William event organisers can help us by fundraising to support ongoing campaign costs. From mid-August you can also purchase T Shirts, Ribbons and Hats directly from William's official website.
We know that there are many out there trying to help but we would really like everyone to now come on board and support the official Where's William? Campaign and register your Walk 4 William event so we can provide you with essential information to ensure a unified approach in the national campaign to find our little boy.
Only the Walk 4 William events that register will be acknowledged and supported by the official Where's William? Campaign.
Please register your event now and show William and his family that they have your full support for their official Where's William? Campaign.
Merchandise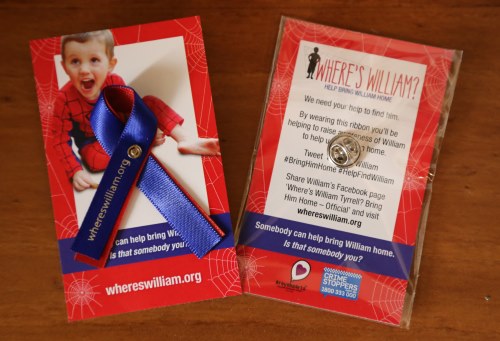 Official Where's William? merchandise is now available to purchase and postage is free! Merchandise includes Ribbons for $3, T-Shirts for $19.95, Baseball Caps for $14.95, 'Tee and Cap' for $30, Four T-Shirts for $70 – save $9.90, Four Caps for $50 – save $9.90. Stock is limited so orders processed on a first come first served basis.
You can wear your ribbon, t-shirt or cap during Where's William? Week 12-18 September, at a 'Tea 4 William Tyrrell', during a registered 'Walk 4 William' or on the 12th of September, the 12-month anniversary of William's disappearance. All proceeds enable the Where's William? Campaign to spread the word to help bring William home to his family.