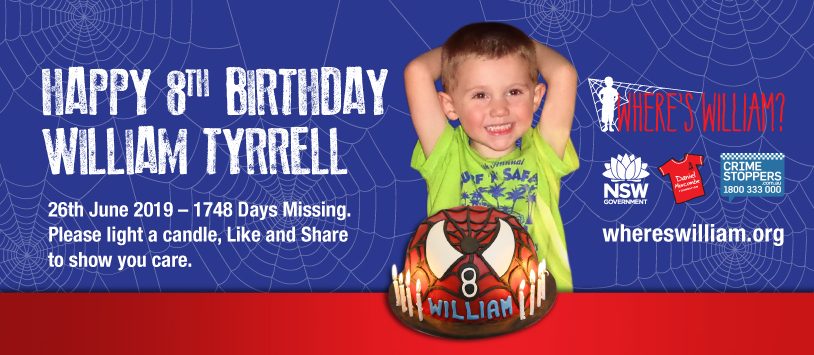 "Today is William's 8th Birthday – another birthday without our precious little boy. Instead of celebrating with laughter, cake, toys and treats for our happy, growing 8-year-old boy; today we are reminded that it's been 1748 sleeps without you – almost 5 long years of overwhelming loss, fears and tears. Today our thoughts are of you, William, and of the lost moments, the lost years… The years of not knowing what has happened to you, of not knowing where you are, of not knowing if you're happy or if you're sad… 

"Happy 8th Birthday William. Wherever you are, you are in our hearts and in our thoughts every minute of every day. We will never give up on you, not today, not ever. This has and always will be our promise to you."

Please light a candle for William, like and share to show you care.

To hear the Where's William Tyrrell? podcast please visit; https://play.acast.com/s/wheres-william-tyrrell
A ONE MILLION DOLLAR reward remains on offer for information that will lead police to William. If you have any information, please call Crime Stoppers NOW on 1800 333 000 and help bring William home.