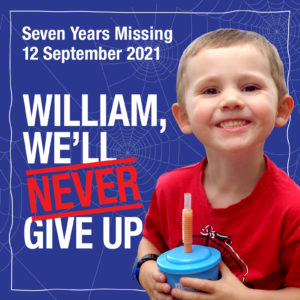 From the moment William went missing we've never given up hope that he will be found. During those first dark days, tortuous weeks, months and heartbreaking years that followed we vowed that we would never give up and lived with the hope that whoever was involved in, or knew about William's abduction would come forward.
On the seventh anniversary of William's disappearance, we ask of the person or persons involved; how much more heartbreak must be endured before you come forward?
When you took William, you plunged our world into perpetual darkness. How long will you continue to make us suffer? When will you choose to come forward and end the nightmare we've endured every day for the past 2558 days since you took William from his happy life?
Over the past seven years William has been the subject of the largest police investigation in Australian history. NSW police have conducted multiple searches, collected thousands of pieces of information, identified hundreds of persons of interest, followed multiple leads of inquiry and posted the first one-million-dollar reward in NSW.
We say "thank you" to NSW Police, in particular to the detectives and the extended team on Strike Force Rosann for seven years of hard work and dedication in trying to find out what happened to William. We are deeply grateful for your ongoing commitment to William.
To the community of Kendall and people of the Mid-North Coast, the SES, the many volunteers, and those from all corners of Australia who've supported the search for William over the past seven years, we have not forgotten your outpouring of care for William and his loved ones. Our heartfelt thanks to you all.
Together, we will never give up on William!
---
A ONE MILLION DOLLAR reward is waiting for the person who can lead police to William – that's one MILLION REASONS to make the call to Crime Stoppers NOW on 1800 333 000.
Make the call and help bring precious William home to the arms of those he loves and who love him.
#WheresWilliamTyrrell #WheresWilliam #OneMillionReasons #MakeTheCall #CrimeStoppers #MissingWilliamTyrrell #BringHimHome #HelpBringWilliamHome #BringWilliamHome #NeverGiveUp #KeepHopeAlive #7Years #7YearsWithoutYou #7Years