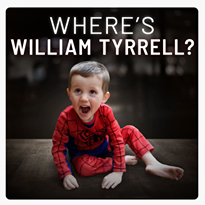 Today's launch of the premiere episode of the Where's William Tyrrell? podcast brings new hope for William's loved ones. Featuring 10 News First journalists Lia Harris and Natarsha Belling; the podcast discusses William's disappearance, the desperate search for him on that tragic day and the dark days, weeks, months and years that followed, and profiles one of the biggest investigations in Australian police history. With the hope of finding out what has happened to William, the podcast features unprecedented in-depth interviews with the people William called Mum and Dad as they talk about that tragic day in September 2014, the lengths they've gone to to do everything within their power to inspire a nation to never give up hope in the search for their little boy, and their aspirations for the future of the investigation that they desperately hope will find William and bring him home.
Access background information at 10 Daily
A ONE MILLION DOLLAR reward remains on offer for information that will lead police to William.
If you have any information, please call Crime Stoppers NOW on 1800 333 000 and help bring William home.